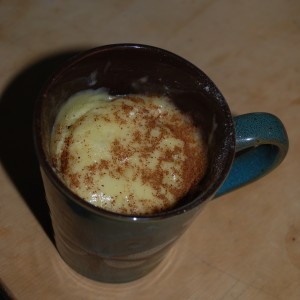 This post is only for people who like really really tasty things.  If you don't, then you won't like this.
Lately I have been making a lot of desserts in the microwave due to lack of oven.  Most recently I made this sugar cookie recipe and it was pretty tasty.  Many thanks to Melissa at No. 2 Pencil for being a genius!  After a few times of eating that I decided I would take her recipe and make it chocolate chip, even though she had a chocolate chip recipe I didn't want to look it up and figured it probably just substituted half the white sugar for brown.  Also there are no chocolate chips here, but whatever.  I made it the way I thought and it was super tasty.  I looked hers up later and hers is slightly different.  I'm sure just as tasty.
A week or so ago we made snickerdoodles at the house of friends who own an oven.  Since then all I want to do is eat snickerdoodles.  This morning at breakfast time (don't judge!) I realized I could make one in the microwave!  So, without further ado here are two ways to make snickerdoodles in your microwave.
Breakfast, attempt one:
1 Tbs butter
2 Tbs white sugar
Pinch of salt
1/8 tsp cream of tartar
Few drops of vanilla
1 egg yolk
3 Tbs flour
More white sugar, cinnamon
First melt butter in a nice microwavable mug.  Then add sugar, salt, cream of tartar, and egg yolk, mixing them all together.  Then add the flour, and mix it up real good.  Sprinkle a liberal amount of sugar over the top, and as much cinnamon as you like.  If you are me you will cover the entire top with cinnamon.  Microwave for 30-45 seconds depending on how strong your microwave is.  Then enjoy.  It was super tasty and I loved it.  This is probably not enough to share with another person.
After dinner, attempt two (larger version):
1 1/2 Tbs butter
3 Tbs white sugar
Pinch of salt
1/4 tsp cream of tartar
1 egg
Several drops of vanilla
5 Tbs flour
Sugar & cinnamon
The steps to making this are just like above except cook 45-60 seconds.
I made this version to share with the 3 other mouths that live at my house. In truth I probably only shared 7 small bites though. I actually preferred this version, and Aaron said it was delicious, but was almost more like a cake than a cookie. Either way, I highly recommend this tasty treat, especially if you don't have an oven and are craving snickerdoodles. You're welcome.