For all one of you that may still visit this blog occasionally, we have big news!  No, I am not pregnant, very funny!  (You know you thought it!!!)  We are however purchasing a RV and going to travel around the US, with potential for Canada and Mexico later.
Here are some questions you were probably going to ask:
Q: How long are you going to do that for?
A: 6 months.  Maybe a year.  Maybe forever.  But probably just a year.
Q: Are you crazy?  Don't you have 4 kids 6 & under?
A: Yes.  Also yes.
Q: I live in Florida/South Dakota/Ohio.  Will you come visit me?
A: Most likely if you want us to.
Q: Can I come visit you?
A: We welcome you to visit with us under our awning outside our RV.  BYOC. (Bring your own chair)
Q: What kind of RV do you have/are you getting?
A: No idea.  One that is reliable and sleeps 6 people and doesn't require a CDL.
Q: Are you thinking about gutting a big bus and building the inside to your specifications?
A: It's like you read our minds!!  We are weighing lots of options.
Q: When are you leaving?
A: Not sure yet.  Intention to buy something in the next month or two, leaving between Novemberish and next spring.  There are factors, people.
Q: Can you show me a picture of a really sweet bus that was almost perfect but doesn't have a shower that you have finally been convinced to not buy?
A: Obviously.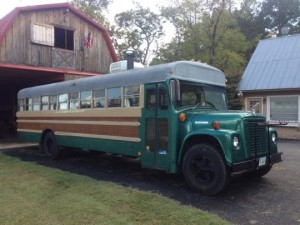 Feel free to ask any other burning questions you have.  More details as we have them.