We quickly decided we needed to do more than just camp in our driveway.  We needed to try out all the things, so last Saturday we loaded it up with water, bedding, and gas and took off.  That makes it sound so simple, but what that really entailed was several hours of prep, mostly spent filling up the water tank, draining it, filling it up again, and figuring out how to prime the water pump.  Eventually we were underway.  Aaron had decided upon Price, UT which is about an hour and a half Southeast from Orem.  He picked this mostly based on the fact that it was close to home (something goes awry we can always drive back) but far enough that we have to keep the engine running for a while, drive windy roads, and to not be tempted to just come home because it is so close.
Here we are finally underway…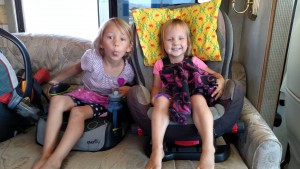 The girls enjoying riding sideways.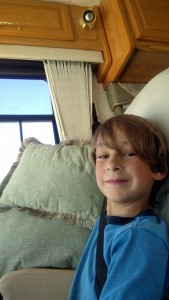 Harmon feeling luxurious in the passenger seat.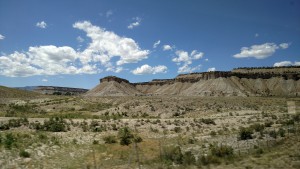 Some cool views out the windows.
We stopped for a late lunch in Price at The Greek Streak.  We all highly recommend it, especially the chicken sandwich & tzatziki.  The kids thought the grilled cheese pitas were amazing as well.  After lunch we hit the USU Eastern Prehistoric Museum.  A good museum and well worth the stop if you are nearby.  One half is dedicated to native people and features awesome displays of arrowheads, shoes, pottery, baskets, and the like, and the other half to dinosaurs.  The museum has a great kids area, complete with a sand pit where you can dig up bones, puzzles, puppets, and more!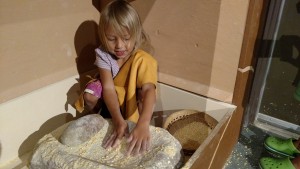 Sammy grinding corn into meal in her traditional apparel.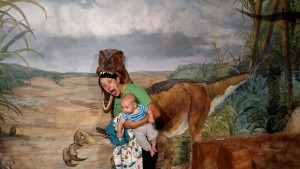 Kelsey getting eaten by a dino.  Mikey is not too worried.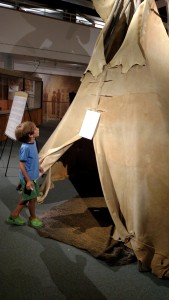 Harmon checking out a teepee.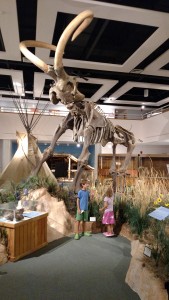 Wooly Mammoths are big.
After the museum we went to the grocery store to pick up some food for dinner and breakfast.  Aaron had several options of where to camp for the night, a few RV parks and a few state campgrounds.  We decided to skip RV parks (we mostly wanted to go there to practice) because we will get plenty of practice when we leave at the end of the month.  Our #1 desire was to boondock (also known as dry camping/free camping/not being hooked up to anything) so we could see how everything performed.  Instead of going farther South into the desert we decided to head back part way towards home to a national forest that had two campgrounds and a potential area for boondocking.  We drove to Scofield State Park.  The campgrounds looked fine, but we continued on around the South side of the reservoir and stopped at a little gas station to get matches and paper towels.  Aaron asked the owner if he knew anywhere to boondock with a giant RV, and happily he told us about a great area nearby.  We drove up a nice dirt road which was barely big enough for our beast, and luckily not too steep.  After a bit we found a nice clearing on a little side road that had two fire rings and no humans.  Sold!  We parked, leveled our rig, and set up for the night.  The spot was close to a creek, so Aaron and the bigger kids went down to swim by the beaver dam.  We saw a pair of deer, and lots of prairie dogs which are probably the cutest animal ever.  It got cold, because we were in the mountains (instead of the desert we intended to be in) but we had a nice fire and put on the few layers we did bring.  At night we were cozy until about 4am.  At 4am it got too cold for the kids so Aaron fired up the heat for the first time.  Blessedly it worked and everyone was able to go back to sleep warm and happy.
The next morning we got up, ate a (disgusting) breakfast of pop tarts, and were on our way.  Even made it home in time for church!  A very successful and fun first trip!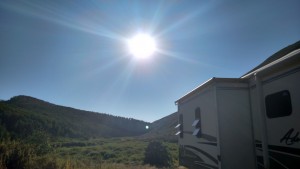 Ah, a lovely slide out in the sun.  Back that way is a the beaver dam and creek.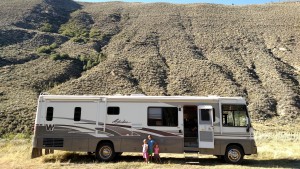 I love pics of the RV sideways with the kids next to it.  It makes it look especially huge.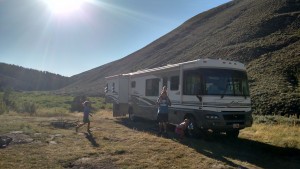 A typical scene, Aaron & Allison posing, Harmon running,
and Sammy doing who knows what.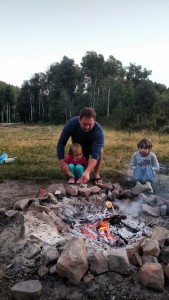 It was a bit chilly, but we survived.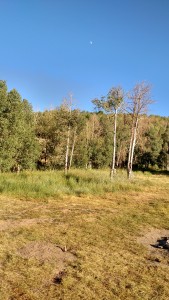 Tiny prairie dog and the moon.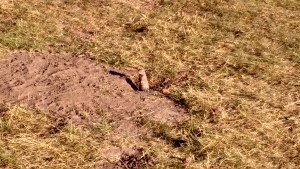 Seriously, why are prairie dogs adorable and rats/mice not?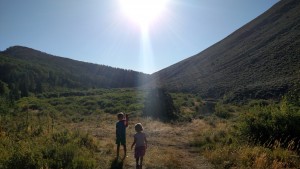 Harmon & Sammy walking towards the creek path.
Sadly no pictures of nasty pop tarts were taken.  The end.