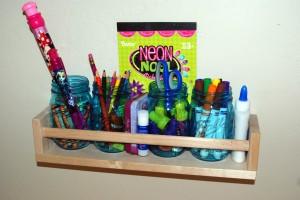 My kids love doing anything art related.  This is great, but sometimes as the one who has to clean up the mess often associated with art projects I find myself less eager to bust out the paint, glitter, etc.  With a one-year-old tornado on the loose, I find myself even more inclined to lock all cupboards which the older kids previously had easy access to, full of crayons, markers, stickers, paper, etc.
Then the other day I read this article talking about how to encourage creativity in your kids.  And it inspired me to bust the things out of the cupboards and put them where the big kids could get them.  (Because 13-month-olds are still not allowed to use crayons and scissors unattended, duh.)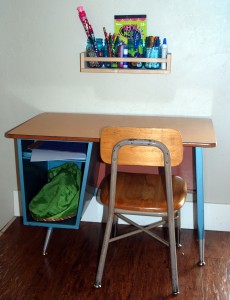 Right now the kids each have an old school desk to work at, so I installed Ikea's spice racks (that were previously being used as book racks that got pulled off the walls far too often) above their desks.  Then I needed containers to hold markers, crayons, glue, etc.  I had the awesome 100 year anniversary blue Mason jars that I had used for a recent wedding centerpieces and they seemed perfect…  I LOVE how they look.  Aaron however thinks they are living on borrowed time, and that shortly I will be cleaning up shards of glass from the floor and using 200 bandages on the afflicted child.  So far so good, and I am LOVING the "art stations".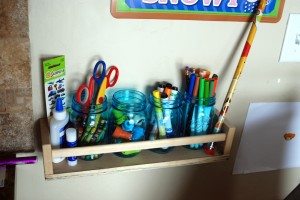 Since putting these in/putting the art supplies out the kids have both been playing more happily with the art supplies, especially Sammy.  She works on various art projects for hours at a time, multiple times a day.  Today I introduced string and a hole puncher (dollar store, holla!) and she is in love with making construction paper necklaces.  And I love it.  It is definitely a leap of faith to put out bottles of glue and scissors (in glass jars no less!) but it has been good, even with a few spills of glue here and there.  So do it.  Be brave.  Put out those art supplies.  Let it be messy.  It is totally worth it.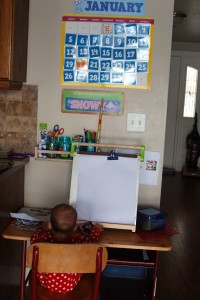 (Remind me I said that the first time the baby climbs on the table, pulls the racks off the wall, breaking all 4 jars, and then plays in it getting bloody, pours the glue everywhere, and then eats all the crayons and draws on the walls using all the markers.)